Well this should be too hard to explain, as it's a Naruto RP, thus there is plenty of resources out there to explain anything I don't cover. Though if you need help, be sure to ask me, I'm a bit of a lore buff on the setting.. as I am a consumer of all things.
The World of Naruto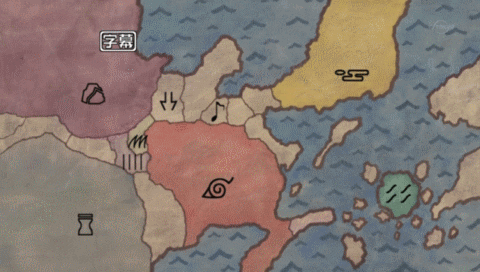 As you can see the majority of the landmass is taken up by the five great nations, each taking their title after an element. All nations great or small have a single Daimyō as it's ruler, with various cities and villages under their rule. Under the current system each Daimyō has a single Hidden Village under their control, this is where Ninja reside.
Each of the Great Hidden Villages have a Kage as their leader, a title to signify their greatness in comparison to the smaller villages who tend to use the title of Village Elder. Though a few do indeed use the suffix of Kage as a matter of pride, or a direct challenge to the Great Five.
The Land of Iron has no Ninja, instead it is home to the remaining Samurai, by general agreement the Land of Iron is left alone by Ninja and the Samurai's Leader is treated similarly to that of a Kage at summits, even acting as an impartial mediator.
As our Characters are going to be from Kirikagure, that would mean the Land of Water which is also known as the Land of Mist is the area we ought to focus a bit of attention on. So lets focus a bit on it's history and current state of affairs.
The Land of Water/Mist
Easily the smallest nation, if one were to look only at the size of it's landmass, is composed of numerous islands. Each with their own unique traditions, leading to the nation as a whole being much more diverse in it's culture than it's larger cousins. The climate is typically cool, with mist being a pervading weather phenomena, though some islands are known for their snowfields.
Politically speaking, the Water Daimyō prefers to keep out of global affairs. Though tensions exist, particularly with the Land of Sea and their expansionist policy of late. They also are equally tense with the Land of Waves, and their strong ties with the Land of Fire, even hiring ninja from Konoha rather than from Kirigakure. Though the Land of Water is at peace now, it's history has been on of near constant civil war.
These now forgotten wars have left their scars upon the land of water, but more so on it's people. For while the nation still makes use of them, clans with Kekkei Genkai were used extensively during those wars. Leading to purges, and genocide of clans harbouring such abilities. Leading to many such individuals going into hiding, fearing their secret abilities become known to their neighbours.
It likely helped the growth the land of water's Hidden Village, Kirigakure, where many kekkei genkai users could be more open with their nature. Such traits being a useful thing for a ninja, though even here there have been problems. The Kaguya Clan was wiped out, and the Yuki Clan while revered these days are still rebuilding decades after the purges sent them into hiding.
Kirigakure
The Village Hidden by Mist, takes it's name rather literally for the Village is indeed surrounded by a perpetual mist, making it a very difficult village to find. The village is led by the Mizukage (Water Shadow), and operates on the type of caste system set up during the founding of the village, though is much looser in the present day.
Highest ranked were those whose family's lineage originally stemmed from/within Kirigakure. The next rung is held by those whose families were allied with Kirigakure in the past, with the lowest caste being those who originated from defeated foes they annexed into the village. In the early days this third caste were handled with great care, and were used to deal with the most dangerous missions, thus keeping them occupied and preventing a revolt. The caste system is pretty much forgotten about by the average civilian, as this along with other practices has seen a dramatic overhall under the current and previous Mizukage.
Village of the Bloody Mist, a term to coined by in the past, came about from a period of ruthlessness in the village's history. Where in order to graduate, students had to fight to the death, with the survivors given the rank of Genin. This practive would come to a head when a a civilian (Zabuza Momochi) still not enrolled entered the graduation battle and slaughtered that year's entire class. Though this was not the only reason the village had such a blood soaked reputation, for under the Fourth Mizukage Yagura Karatachi things would get even worse. Corruption and the pursuit of power become the way of things, leading to the village to end up losing many of it's ninja, to the point they created a special division known as the Hunter-nin specifically to deal with these rogue ninja.
The Village was home to an elite squad of kenjutsu users, known as the Seven Ninja Swordsmen of the Mist. Each wielding a powerful weapon, each of which was handed down the generations. However before the Fourth Ninja War all but one of these swords was lost to the village. Though presently the swords are back within the possession of the Village, the Kage has yet to appoint a new generation of the Seven. A recent failed coup was orchestrated by a group calling themselves the New Seven Swordsmen of the Mist, who had stolen the seven swords, but they were retrieved and once more residing in the Kage's vault.
Even before the Fourth Ninja war, the Fifth Mizukage had done much to reform the village. Her successor would push even further, taking part in many activities with the other Hidden Villages that they normally abstained from such as the Chunin Exams. His actions have left a sour taste in the mouth of some villagers who preferred the days of the Bloody Mist, but that does not seem to prevent the village's new growth. As once a rather humble place, it has become a sprawling metropolis that rivals all other villages in sheer wealth if not size.
The Village has a high occurrence of Water affinity amongst it's ninja, there are also a notable few of Yin affinity. The Second Mizukage being a famous example. The academy of the hidden mist while forgoing the practices of old is still considered the harshest of the Great Villages. Not only are students expected to perform the normal rudimentary jutsu all ninja know, but also train in advanced techniques such as water walking and Kenjutsu. Though as many in the village harbour hopes of becoming one of the seven swordsmen, and have an inordinate amount of rivers and lakes while surrounded by the ocean, it makes common sense to train them in these aspects even if some do not end up adopting kenjutsu. Due to this rather more extensive training, genin of the mist village are expected to be able to be able to take part in higher than average ranked missions of similarly ranked ninja elsewhere.
While Kirigakure is expected to serve and protect the Land of Water's Daimyō they also perform duties for the Land of Sea, and the Land of Waves. Though as ninja can be hired by anyone, there isn't really a limit as to where you might encounter a Mist Ninja.
Jutsu
A ninja is a person that their user tasks with solving their problems, well it's a bit more involved that that but that's the basic principle of the Ninja. Recieve a mission, and complete it to the best of one's ability. That never changes, no matter which village one belongs to. Thus Ninja are trained in various arts of combat to better do their missions, typically called jutsu for short.
A jutsu begins with chakra, the creation of which is formed by moulding one's spiritual and physical energies. This this then channelled through hand signs (though some jutsu don't require any) and other such actions that then release the effect the user was trying to achieve. Improper chakra control can lead to misfiring jutsu, that can even prove fatal to the user.
Jutsu like missions are Ranked from E - S in order of difficulty, though jutsu that originate from a Kekkei Genkai or other such unique abilities have no such rank though this does not mean they only require the right blood line to achieve.
E, Academy Students are expected to master these in order to graduate.
D, Genin Level, simple enough that any ninja could learn them with some of training.
C, Chunin level, Moderate in difficulty to achieve.
B, Jonin Level, High levels of control are required to learn such a technique.
A, Kage Level, Requiring near perfect control over one's chakra, a fair few A rank jutsu are become Forbidden/kinjutsu due to their effects/side effect.
S, Secret, Requring extreme levels of training and are typically end up being unique to a single user due to the difficulty in creating/learning the jutsu.
This is not a hard and fast rule, a Genin could learn an S ranked Jutsu under the right conditions. As shown in the series, a person could be a Genin for a good chunk of their life, if they're unlucky when it comes to promotion opportunities. That and the right mentor could help things along considerably, compared to just trying to create a jutsu out of thing air.
Jutsu Type
Each jutsu comes under a type, though the main three are simple enough to figure out I'll go through them anyway.
Taijutsu
Martial arts is the main way to think of taijutsu, the least chakra draining of the main three type of jutsu. Relying on one's stamina (physical energy) and strength to achieve the desired effect (usually punching or kicking something). Advanced Taijutsu incorporates chakra, usually to enhance the strength of a blow, but it can go beyond just that simplistic usage.
Taijutsu typically requires no hand seals, as your fists are generally busying becoming acquainted with the opponent's face.
Genjutsu
Illusions, that is the first thing you should think of when it comes to genjutsu. Nothing your foe experiences under the effects of a genjutsu is real, though try telling them that as advanced genjutsu feels very real. Those with an affinity to the Yin Element are good with Genjutsu. All genjutsu need to latch onto a sense in order to work, sight and sound are typically the main ways to lock a person into a genjutsu.
Ninjutsu
The most nebulous of jutsu types, typically involving an effect not covered by the other two main types. Breathing fire, summoning mist, forming a golem out of dirt, etc. A lot of stuff can be done with Ninjutsu, and it burns Chakra like there is no tomorrow.
Where does Kenjutsu come into all this? Well that's simple it's jutsu based around sword combat. Ninjutsu to add a flames to the edge? Taijutsu to move really fast, and swing really hard? A sword that whistles making the foe see nightmarish images? All that is kenjutsu, though also the main three, though genjutsu is the hardest one to do kenjutsu with as typically a sword is just a solid lump of steel without chakra to 'inject' into the foes network.
I'd go into all the other jutsu types, but frankly I don't think we'll need them explained here as they're more case by case than a generalised thing everyone will be working with.
Elements, the other aspect of a jutsu that can determine just how effective it can be in a given situation. I don't think I need to explain what the elements are, except Yang and Yin, as if you haven't got a clue what Wind is.. I don't know how you made it this far without exploding.
Yin Release
Deals with the manipulation of spiritual energy, from manipulating shadows, to minds, Genjutsu is all about Yin Release. It can be combined with Yang Release to create Yin-Yang Release.
Yang Release
As it's the opposite of Yin release, you can probably guess this is to do with the body. Indeed a Yang release tends to involve manipulating the body, almost in the fashion of a Kekkei Genkai. Doubling in size, is one notable usage of the Yang Release power.
Yin-Yang Release
A combination release that is not tied to a blood line, however that is not to say it's a simple case of grab some Yin and add it to Yang, it's turning the body and spirit into an element beyond the five basic elements. One who is able to use such a release can nulify all ninjutsu, create the impossible, even raise the dead or restore the dying. (Can you guess what I'll do if you try saying you have this element? If not, well chibi will be well fed)
Kekkei Genkai
These are traits born in the blood, usually a family/clan thing though different from a Hiden (clan jutsu) as it's virtually impossible to learn a jutsu that relies on a Kekkei Genkai without being of the right bloodline. I'm going to skip one of the big Kekkei Genkai types as they're all tied up in the Konoha or all dead. Aka I'm not having everyone and their sister with a sharingan.
Advanced Element Release, this form of Kekkei Genkai is typically based around ninjutsu, as it involves the ability to access an elemental release that would normally be impossible. I'll give a little information on each of them, at least the ones with information to give.
Boil Release
The combination of Fire and Water, one notable usage of this was to create a corrosive vapour. Dissolving Enemies and allies alike caught within it, the user can alter the acidity even after the vapour is released.
Explosion Release
Earth and Lightning Release, allows the user to create explosions with their chakra. The more common way of utilising this is with taijutsu, whereby an explosion is transfered into the target which is promptly released. Another method was to infuse an object with Explosion release and then detonate it, the size of the object being proportional to the size of the explosion.
Ice Release
Water and Wind, able to create and manipulate Ice. This ice can be made resistant to even a fire style jutsu. Another method used with Ice release was to plant ice particles on a target, who would promptly freeze to death if they didn't use their chakra to keep themselves warm though the effectiveness is determined by the moisture in the air. The Yuki Clan are a famous Ice Release clan from the Land of Water.
Lava Release
Earth and Fire, a rather nebulous kekkei genkai as there are numerous users of Lava release who use it in completely different ways. From Molten Rock as expected, Acidic Mud, Corrosive Quicklime, Vulcanised Rubber, and Volcanic Ash have all be created with the use of Lava Release.
Magnet Release
Earth and Wind, the user generates a magnetic force they can then apply to a substance. It has been used on metallic minerals to achieve a form of sand that bends to the users will, or weapons that transfer their magnetic property to anything they touch causing it to be easier to target with metalitc weapons.
Mud Release (I'm not including Wood even though they share the same elements)
Water and Earth, while not a rare kekkei genkai, due to wood release's fame it's rare to find a person who has even heard of Mud Release. The main usage has been creation of ceramics, and turning solid ground into mud. Another trait is that their hands always end up dirty afterwards, leaving a bit of a stigma around it.
Scorch Release
Fire and Wind, allows the user to create intense heat that can evaporate the water in the body when it makes contact. Also able to generate intense flame, though Scorch release fairs poorly against Water Release.
Storm Release
Water and Lightning, despite it's name doesn't create nor manipulates storms. Instead it creates and manipulates electricity that flows like water.
Think that's enough on Element GKs, onto the other type which is much simpler even though it's more varied.
Body Manipulation, those with this type of Kekkei Genkai can manipulate some aspect of their body. Be it the ability to merge their body with another, create weapons from their bones, even passive absorb natural energy bypassing the training needed to use senjutsu to highlight a couple of strange things that this type of Kekkei Genaki can do. There is plenty of other ways it could express, but then I'm not about to turn this into a novel and explain every which way a body could be different from the norm.
Think that's enough of that, I've given information of various things, well enough to wet one's appetite anyway. Now to tell you when this is happening, time frame is shortly before Boruto's Chunin Exam. Like right before, the team graduates, and Mizukage runs off to with the prospective Chunin while we start our story. We'll hear things about what happens, but we won't be involved in Boruto's story. We're genin of the hidden Mist, well except the Jonin who I've yet to create.. so mehmoo. Between me and many wikis on the subject of the setting, I think we'll be able to come up with some interesting characters right?